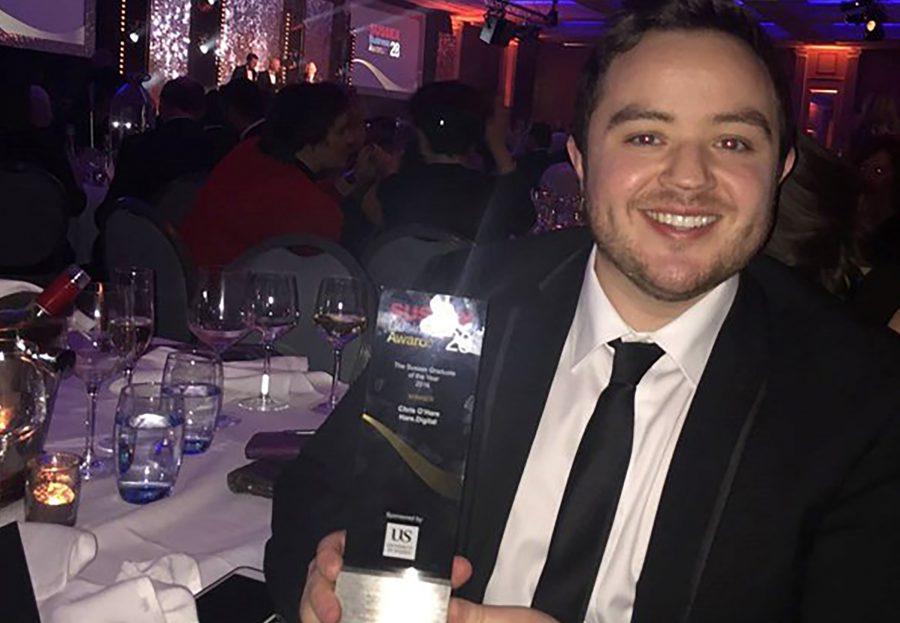 We were pleased to see University of Sussex graduate, and successful business owner, Chris O'Hare recognised for his achievements at the recent Sussex Business Awards where he was crowned Sussex Graduate of the Year. Sponsored by the University of Sussex, the award recognises individuals who have graduated from the University in the past three years and who have contributed in some way to the Sussex economy. It is the second award for O'Hare who also won the StartUp Sussex award in 2015, an award that is given to the university's top entrepreneur. At the time his fledgling business, Hare Digital, already had a staff of five, but today, impressively, it has grown to 11.
O'Hare is a great example of the type of high-calibre students the university and the city as a whole attract, and it is also a great example of how important these bright sparks are for our city. Retaining graduates who go on to found businesses in the city is really important and The University of Sussex works closely with local employers to build up a talent pipeline for these highly skilled graduates to enable them to contribute to the economic development of the local community.
We estimate there are around 45,000 students at various levels of their education in Brighton and this group is essential for the future of our city. Encouraging students to put down roots here after they graduate, and potentially build their businesses here, is a very positive thing.